Due to a rigorous study abroad schedule, I chose to maintain in my last years as a university professor, my last three wedding anniversaries have been spent in some really cool spots around the world. With a May 19th wedding date, Laura and I coincidentally celebrated our 9th year on a trip with students to London, Paris, and Rome. The big ten-year marker was very special, starting with breakfast in Munich, Germany, lunch in Innsbruck, Austria, and dinner in Padua, Italy, (just outside Venice), spending the following nights in a ski chalet just up the mountain from Lake Lucerne, Switzerland. That was a tough one to follow, but just last year we marked year 11 with a whirlwind adventure through Spain and the French Riviera.
So, it was with a small sense of inadequacy that I agreed to grant my wife's wish this year and simply take her out on a boat at our local lake to proclaim year 13. That's my Laura. She would just as soon enjoy the sunset on the lake and return home to be a mom than blast off on a 10-day elaborate European tour. Luckily, a dear friend was on a family vacation and had just sent me a text offering his boat while he was out of town. Perfect!
Sunday was a beautiful day, capped off by a quiet, still evening on the lake. Laura and I grabbed dinner to-go from a local restaurant and headed to the lake. We launched the boat just before dusk, remembering that just days beforehand, we had been out on this very same boat when the owner started it from the dock with a proud smile and comment, "starts first time, every time". To make sure we are on the same page here, please don't envision a luxury yacht. No, this boat is a ratty old ski boat tarnished by years of outdoor use and storage, sitting atop murky Texas lake water. In other words, this was not the passenger cruiser we rode across crystal clear Lake Lucerne to Mt. Rigi just two years before. I have also never heard of any alligator reports on Lake Lucerne. Not so the case on our lake  Diversity equity and inclusion.
Pushing the boat a distance from the dock, I tried the ignition. No luck. I had confidence in this boat – thought this would go very smoothly, impressing my beautiful bride of 13 years. Instead, we found ourselves struggling to get the boat started and then keep it running long enough to simply park it back in the slip. As we sat out in the sun, in this tattered old boat, images of temperate and extravagant voyages in Europe streamed through the back of my mind (as the front of my mind was consumed with the thought of whether I could venture a swim to the dock, pulling the boat in tow, without meeting face to face with an alligator.
We eventually got the boat fired up, revved up and slid into place safely (my bride keeping her cool, thankfully, and lending a helpful marital hand during the parking process). Relieved is probably an incorrect or inadequate word to describe how we felt as we sat under the dock roof, the boat parked, eating our to-go dinners. Actually, it was only after a number of minutes that I realized and commented that we were so thankful to have made it back ashore that we were simply staring at the shore and dock rather than the sunset taking place behind us over the lake (notice the picture).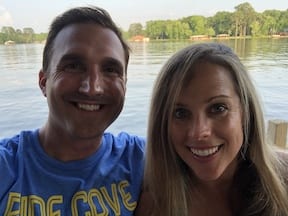 This little adventure is just a single, short-term snapshot of what global ex-pats experience on a regular basis. The moments of, "this isn't going as planned", or, "oh no, what do we do now?", for example, happen all the time when one crosses cultural borders to live abroad. It is in these moments that we begin to learn a greater depth about ourselves and those around us. We thought we knew ourselves, our spouse, teammates, colleagues, children, etc. Then we go abroad and realize/learn so much more we would have never discovered at home. This realization brings pros and cons, but it is in these challenging situations that we must take inventory. Try these steps the next time you are in a harrowing situation as an ex-pat. No, this is not magic or a quick-fix solution, but rather a process that if followed can really guide you to a better place mentally, physically, emotionally, and spiritually when these issues DO occur.
Try to step back and see this situation as an outsider
Mentally note your reaction to the situation (i.e. emotional and physical)
Trace what truly initiated or created this situation
Stop and take a moment to collect yourself and react in a calm and gathered way
Afterward, genuinely dedicate ample time to evaluating what caused the situation, name your emotions, think rationally about your reaction, and make a plan for how you might handle the same or similar situation in the future.
With this simple list in mind, you can begin to become better equipped with what we call empowerment, or the ability to display reliability, patience, and consistency toward others through trust. Remember, there is only a very, very, very limited amount in life that actually lies with our locus of control. The remainder is out of our control – we cannot control it. But what we can control is our reactions, including emotional and behavioral. Believe me, it would have been easy to stomp around that old boat, screaming about how it won't start and about my friend who encouraged us to take it out (on our anniversary no less). Instead, it was important that, even though my mind was racing and my anxiety was off the charts, that I remain calm, think through the situation, involve my wife in the decision-making process, and then act with confidence. Was I perfect? Nope, but my actions showed reliability, patience, and consistency that strengthened the trust my wife has in me, so much so that I feel pretty confident she will stick with me another year! Begin practicing these tips and start enjoying the power of empowerment.
[tweet_box design="default" float="none"]what we can control is our reactions, including emotional and behavioral[/tweet_box]